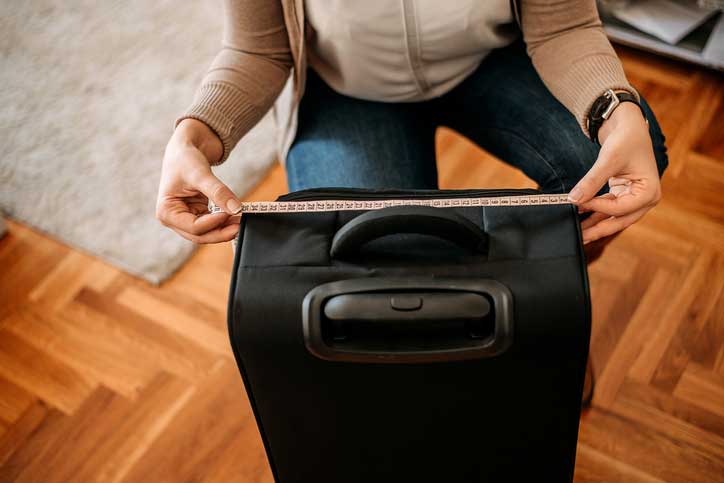 Tips to Pack Light For Travel
We've all been there: trying to lug that oversized piece of luggage through the parking lot and into the airport, while also dragging kids in tow and a few carry-ons on your shoulders. This isn't a pleasant way to start your vacation. What if there was a better way? Well, there is, and it starts with hiring a DTW valet airport parking company like us.
But in addition to that, there are ways you can ensure a lighter load on travel day. Here are some tips for packing light before you head to the airport, while still having all the essentials you'll need for your trip.
Create a List
Packing light is an art that you'll soon master if you take the time to get it right. With every trip you take, you'll quickly learn what you really need to take with you and what should stay home. Break out your list into four main categories:
Travel outfit
Carry-on bag or purse items
Checked luggage
Liquids bag
Under each category, further break out the list into the specific items you will need to bring. Consider your destination, which will impact what you bring with you and what you leave behind.
Follow Size and Weight Requirements
That luggage scale at airport check-in is brutally honest. And no, they won't be forgiving if your suitcase is "just a couple pounds over." Check all carry-on and checked luggage restrictions for the airline you'll be using, as each one varies a bit, especially overseas. For example, European-based airlines typically have stricter weight and size limits.
You may assume too, that your "standard" carry-on bag will fit seamlessly in the overhead bins, but this is not always true. Every overhead bin is different, so ask beforehand. Some people can place a carry-on duffel and laptop up there no problem, while others have a problem cramming one small bag.
If you own a luggage scale at home, use it. Pack your bag, then weigh the luggage till you get it under the maximum weight. It's a good idea to leave yourself a few extra pounds for souvenirs you'll be picking up on vacation. Also, check the weight of your luggage when you buy it. They're not all as light as you think. Some weigh up to 10 pounds empty!
Practice Packing
If you're new to all this, practice packing beforehand, including all your liquids. Weight the bag and make adjustments as needed. Remove unnecessary items, replacing essentials with smaller versions. You may choose a small foldable brush or comb instead of your mega styling brush, for instance. And no, you don't need five pairs of shoes. Pick one or two pairs and be done with it.
Maximize Your Outfits
Bring clothes that complement each other. This way, you can mix and match as you see fit and not have to bring several complete outfits from top to bottom. Don't be afraid to repeat outfits. Unless you're vacationing in the jungle, there will be a washing machine on site.
Pack Your Toiletries
In most cases, you'll need a one-quart plastic bag for all your essential liquids, such as moisturizer, face wash, sunscreen and aftershave. If you run out of shampoo or conditioner on vacation, just buy more there or use whatever the hotel provides. Check your airline's policies on what they approve for plastic bags and liquids.
Layer Your Clothes
The temperature on a plane can go to extremes. It may be 90 degrees outside but as soon as you hit that cabin and the AC turns on, you'll be freezing. And vice versa. Combat these uncomfortable situations by dressing in layers. This way, you can add and remove articles of clothing as needed. Bonus: by wearing your heaviest clothes on the plane, you can pack more in your carry-on or checked luggage.
When packing for a trip to the airport, remember, less is more. If you don't use it on the daily, you don't need to bring it with you. But whether you tend to under pack or over pack, we can always accommodate you here at Valet Connections DTW Parking. We'll take you and your luggage (no matter how heavy) in our complimentary shuttle and bring you right to your terminal.
Contact Valet Connections DTW Parking
Valet Connections DTW Parking can pick you up and drop you off no matter how much luggage you have. Call us at (734) 992-4946 to book your valet parking service.